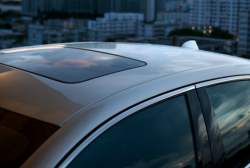 — A month after General Motors recalled 67,000 Cadillac ATS sedans to repair sunroofs with way-too-touchy switches, GM is playing the same song with 92,000 Chevy Malibu sedans.
The recall covers 2013-2015 Malibu sedans with sunroofs that can close or open too easily from simply brushing against the switch. The switch is mounted on the roof and isn't completely recessed into the structure.
According to federal safety standards, the sunroof switch should activate the sunroof when a specific amount of force is applied to the switch. The Chevrolet Malibu switch, like the Cadillac ATS switch, can be activated with less force than allowed and cause the sunroof to operate when it shouldn't.
GM says the faulty switch hasn't caused any complaints or injuries, so far.
The automaker hasn't released details of when the Malibu recall will begin. GM dealers will reprogram the control module and possibly make changes with the switch.
Owners of the 2013-2015 Malibu may contact Chevrolet customer service at 800-222-1020 and give them recall number 15176.
Read owner-reported complaints about the Chevy Malibu sedans listed in the sunroof switch recall: