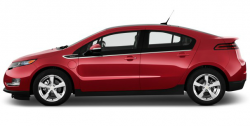 — In what might be one of the most unusual recalls ever, General Motors is recalling 64,000 model year 2011-2013 Chevrolet Volt hybrid cars because they were apparently working as designed. In this recall, it seems it's the owners with problems, not the hybrid cars.
GM says two people have suffered from non-fatal carbon monoxide poisoning because the cars weren't turned off before drivers exited the cars.
The Chevy Volt makes no engine noise when the car is running in "electric" mode. Owners have drained the batteries after exiting the cars with the engine running in electric mode. The gasoline engine will start once the battery has been drained while in electric mode. Parking the car in a confined space (like an attached garage) can cause carbon monoxide to build up and become dangerous in enclosed areas.
GM says there are warnings to let a driver know they are leaving the car while it's still running, including chimes that sound when the door is opened. Apparently some Volt owners have ignored those warnings and left the cars running in electric mode which drains the battery, kicks in the gas engine and creates the carbon monoxide.
GM says the recall affects the 2011-2013 Chevy Volt and that dealers will need to update software so the Volt turns off if the owner leaves it idling. GM didn't indicate how long the Volt will be allowed to idle before it shuts itself down.
The National Highway Traffic Safety Administration didn't release a recall schedule, but owners of the 2011-2013 Chevy Volt can contact Chevrolet customer service at 800-222-1020. GM's number for this recall is 14617.