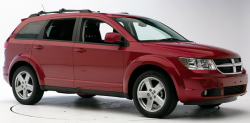 — Faulty ignition switches are causing Fiat Chrysler to recall over 700,000 minivans and crossover SUVs, some for the second time for the same problem. Fiat Chrysler names the recalled vehicles as the 2008-2010 Dodge Journey, Chrysler Town and Country and the Dodge Grand Caravan.
As with previous ignition switch recalls, Fiat Chrysler wants owners to use only the key to start the vehicles. No key rings, key chains, key fobs or anything else should be attached to the ignition key.
As seen in ignition switch recalls from General Motors, the weight of items attached to the key can cause the ignition switch to accidentally move from the "run" position to the "off" position and cause the vehicle to stall. A simple bump in the road or a bump of the knee could do the same thing.
A stalled engine can cause an accident because of the sudden loss of power steering and power brakes. And those won't be the only things you'll lose. With no electrical power, the airbags will be disabled and will fail to deploy in a crash.
The National Highway Traffic Safety Administration started looking at ignition switch problems in Fiat Chrysler vehicles in June 2014. One federal investigation looked at 700,000 model year 2010 Dodge Journey, Grand Caravan and Chrysler Town & Country vehicles after reports of ignition switch problems.
A second investigation focused on 525,000 Jeep SUVs for their own ignition switch problems.
Fiat Chrysler hasn't released much more information than this, other than to say owners will probably be notified in April 2015, as the replacement parts are still being manufactured.
Owners can contact Chrysler customer service at 800-853-1403 and make reference to recall number R03.
Read what owners say about their Dodge Journey, Dodge Grand Caravan and Chrysler Town & Country.