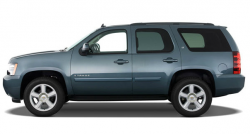 — The National Highway Traffic Safety Administration (NHTSA) is reviewing a petition to open an investigation into about 58,000 model year 2010 Chevy Tahoe SUVs. A consumer filed the petition that alleges the 2010 Tahoe has defects that cause occupants to be ejected in a rollover crash.
Although NHTSA says the specific number of affected SUVs is about 58,000, the petition says the defects are in millions of GM vehicles. The petition says the defects allow occupants in the second and third rows to be ejected even with the rollover window curtain airbags deployed.
The petitioner cites a 2011 Texas crash that involved a 2010 Chevrolet Tahoe. The crash involved four adults and four children where the SUV rolled over on the passenger side. The side-curtain airbags deployed but one child in the third row was ejected and the unbelted adult on the left side was thrown out of the SUV. An occupant who was wearing a seat belt in the middle seat of the second row was partially ejected after the seat belt released.
The petition claims the design of the roof can cause the window to break and open areas that allow occupants to be ejected. The side airbags are meant to prevent those type of accidents.
The alleged defects are the untethered airbags in the second row and third row seats and the strength of the roof to limit window breakage. The petition says the airbags should be tethered on both ends similar to the design for the front side-curtain airbags.
NHTSA says consumer complaint data doesn't include similar reports of occupant ejections in 2007-2015 Chevy Tahoe SUVs.
The NHTSA action is not a formal investigation. Based on what the agency determines, the petition will be denied or the government will approve the petition and open a formal investigation.