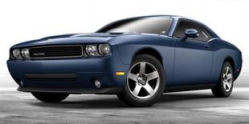 — Add the Dodge Challenger to the terribly long list of cars recalled because of explosive Takata airbags. Fiat Chrysler says over 88,000 model year 2008-2010 Dodge Challengers have driver-side front airbags that could explode when the airbags deploy.
Joining the list of 34 million vehicles recalled because of Takata-branded airbags, the Dodge Challenger uses batwing-shaped propellant wafers in the metal inflators inside the airbags. Takata says all airbags will need to be replaced if the inflators have the batwing design because all the fatalities and most of the injuries in the U.S. involved the batwing inflators.
Chrysler says the metal inflators used in the 2008-2010 Dodge Challenger can be affected by moisture which "could potentially lead to over-aggressive combustion in the event of an airbag deployment." That is a nice way of saying the metal inflator inside the airbag can explode and sends shards of flaming metal into the occupants.
The defective inflators have been blamed on at least eight deaths and over 100 injuries.
The automaker says the recalled 2008-2010 Dodge Challengers were manufactured September 19, 2007, to October 29, 2010.
For any Challenger owner who has already paid for repairs to the airbag inflator, Chrysler will reimburse the owner as long as the customer has the original receipt or proof of payment made for repairs.
Now comes the bad part, as if exploding airbags weren't enough. Chrysler says replacement parts aren't available and the automaker doesn't know when parts will be ready. Owners of the Dodge Challenger should watch for a first recall notice shortly after August 14, 2015. Owners will be sent a second notification when replacement parts are available.
If you own one of the recalled 2008-2010 Dodge Challengers and have questions or comments, call Fiat Chrysler at 800-853-1403 and refer to recall number R37.
For an idea how serious the Takata airbag recall can be, keep reading below.