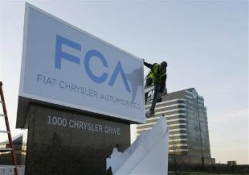 — The National Highway Traffic Safety Administration (NHTSA) has released additional details why it believes Fiat Chrysler has failed its customers in the recall process. After announcing the government will hold a public hearing on July 2, 2015, about Fiat Chrysler's handling of 20 recalls, NHTSA says the hearing will include an additional two recalls ordered by Chrysler.
NHTSA says it has "tentatively concluded" Fiat Chrysler hasn't adequately fixed vehicles included in recalls and even with repairs that were made, those repairs weren't performed in a reasonable amount of time. Further, the government says Chrysler owners have constantly complained about trying to make multiple dealer appointments for repairs, but always told the required parts weren't available.
Safety regulators say not only has Fiat Chrysler failed to notify vehicle owners about recalls in a timely (and legal) manner, the automaker has failed to correctly submit recall information to NHTSA. The government says Chrysler has failed to submit recall information to safety regulators "that is timely, correct, complete, and in the required form."
The safety agency provided a few examples of why the public hearing was ordered and why Fiat Chrysler has a lot of questions to answer.
Failure to Remedy Vehicles in a Reasonable Time
On February 6, 2013, Fiat Chrysler recalled about 278,000 model year 2009 Dodge Durango, 2009 Plymouth Aspen, 2009-2011 Dodge Dakota and 2009-2012 Ram 1500 vehicles. The recall involved a pinion nut on the differential that can come loose. If this occurs, both rear wheels can lock and leave the vehicle nearly impossible to control.
NHTSA says although this recall was initiated over 16 months ago, the agency has received, and continues to receive, numerous complaints from owners saying they have been unable to have the recall repair performed because parts are not available. The complaints include incidents where the pinion nut failed after the owners were notified that parts were not available, including two incidents resulting in crashes.
Another series of recalls involve a tie-rod end that can fracture, disabling the steering gear and causing a loss of control. Fiat Chrysler filed recall notifications November 6 and November 11, 2013.
These recalls involve about a million trucks, but problems with replacement parts caused problems, then more problems occurred when the replacement parts were found to be defective. Now 18 months after the recall notices were filed, many of the vehicles still aren't repaired.
NHTSA also says serious problems have occurred with the dangerous incidents of gas tank fires caused by rear-end crashes of Jeep vehicles. On June 18, 2013, Fiat Chrysler notified NHTSA that it would conduct a recall of 1.5 million model year 2003-2008 Jeep Liberty and 1993-1998 Jeep Grand Cherokee vehicles to reduce the risk of fire in rear-end collisions.
Chrysler said it would install trailer hitches on the SUVs to give at least some additional protection in low-impact crashes, but as of April 30, 2015, Chrysler has completed repairs on 320,000 of 1.5 million Jeeps.
Failure to Adequately Repair Defects
The government says Fiat Chrysler filed a recall notification on July 1, 2014, stating that a safety defect existed in 650,000 model year 2011-2014 Dodge Durango and Jeep Grand Cherokee SUVs. The defect results in a risk of fire inside the vehicle caused by a short-circuit that occurs when fasteners used to secure a sun visor to the headliner pierce a wiring harness located above the sun visor.
Chrysler said it would fix the fire risk by moving the wires to make sure screws or metal fasteners didn't touch the wires. That plan fell apart when owners reported fires that occurred after the vehicles were repaired. NHTSA said it's aware of 13 incidents of short circuits or fires that occurred in the sun visors or headliners.
Failure to Notify NHTSA About Changes to Notification Schedules
NHTSA says it "appears" Fiat Chrysler did not keep the government informed about its schedule for notifying owners about recalls. NHTSA says it believes this occurred in at least six recalls.
In some of those recalls, the automaker allegedly didn't promptly provide the reasons for the delay and didn't provide a revised estimate.
Failure to Submit Copies of Recall Communications to NHTSA
NHTSA has "tentatively concluded Fiat Chrysler has not submitted representative copies of recall communications to NHTSA as required. This includes not submitting a draft owner notification for NHSTA's review and approval, and not timely submitting copies of owner and dealer communications to NHTSA."
In June 2015, the government said it believed Fiat Chrysler missed legal recall reporting deadlines in five separate recalls, however, NHTSA now believes that occurred in seven recalls.
"Fiat Chrysler still has not notified vehicle owners of Recall No. 14V-817, nearly six months after filing its Part 573 Report in December 2014. Although Fiat Chrysler submitted draft interim notices to NHTSA for approval in both Recall Nos. 14V-354 and 14V-817, Fiat Chrysler apparently never sent those notices to owners." - NHTSA
For an example of what owners have endured during Jeep recalls, please read, Jeep Owners Still Wait for Trailer-Hitch Fix.