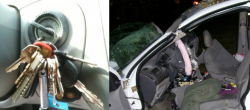 — General Motors defective ignition switches have caused 104 deaths, at least according to administrators of the compensation fund created to keep legal cases out of court. As of May 15, 2015, GM says the 104 death claims have been approved out of 474 claims submitted by GM owners, their families or representatives.
GM was facing the very real threat of hundreds of lawsuits filed after the company admitted it waited over 10 years to recall ignition switches that cost 57 cents each. A heavy key ring, a drive over a rough road or a bump to the key from a knee can shut off the car. In some cases the ignition switch can move to the "accessory" position, and in other cases the switch can move to the "off" position and shut down the car.
Either event can occur at any speed and leave a driver suddenly without power steering, power brakes and without airbags.
With millions of GM vehicles recalled and lawsuits filed in courts across the U.S., the automaker created the compensation fund by setting aside $400 million to cover injuries and deaths caused by the switches. Another $200 million was placed in reserve in the event GM was swamped with claims.
The automaker wanted to avoid costly legal trials by creating the fund, but GM also said alleged victims who applied to the fund wouldn't have to meet certain requirements they would have to meet in court. For example, some occupants involved in ignition switch accidents had been drinking, speeding or not wearing seat belts at the time of the accidents.
Those issues could be the perfect defense for GM in court, but applying to the compensation fund meant those issues wouldn't be taken into consideration. Even if the person had a record of drunk driving offenses, GM said those offenses wouldn't affect a person who applied to the fund.
In February 2014, GM had admitted 31 accidents had caused 13 deaths in GM cars, but that number is now 104 deaths based on eligible claims approved by administrators of the compensation fund. GM says as of May 15, 2015, only 26 death claims are left to review out of a total of 474 submitted fatality claims.
The fund has approved 191 injury claims, but only 12 "category one" claims have been approved out of 289 submitted claims. GM says category one claims are those that involve very serious injuries, namely quadriplegia, paraplegia, double amputation, permanent brain damage and serious burns.
Category two claims consist of injuries that required medical treatment within 48 hours of an accident. Out of 3,569 of these injury claims, 2,908 have been tossed out because GM said the claims were "deficient" or "ineligible."
As of May 15, 2015, the numbers from the GM ignition switch compensation fund are as follows:
Death Claims
Total Death Claims: 474
Eligible: 104
Ineligible: 244
Deficient: 97
Under Review: 26
Submitted With No Documentation: 3
Category One Injury Claims (Quadriplegia, paraplegia, double amputation, permanent brain damage and serious burns)
Total Category One Injury Claims: 289
Eligible: 12
Ineligible: 165
Deficient: 58
Under Review: 52
Submitted With No Documentation: 2
Category Two Injury Claims (Injuries that required medical treatment within 48 hours of the accident)
Total Category Two Injury Claims: 3,579
Eligible: 179
Ineligible: 1685
Deficient: 1223
Under Review: 417
Submitted With No Documentation: 75
Total Death and Injury Claims: 4,342
Eligible: 295
Ineligible: 2094
Deficient: 1378
Under Review: 495
Submitted With No Documentation: 80