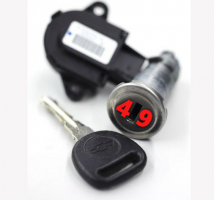 — With less than 2 weeks to file a claim against General Motors over its deadly ignition switch failures, GM has approved 49 death claims and 65 injury claims.
GM started the ignition switch compensation fund after the beating the automaker received for hiding the switch defects from the public for over 10 years. The automaker set aside $400 million to open the fund on August 1, 2014, and planned on closing the claim submission deadline on December 31, 2014. However, under pressure from outsiders, GM extended the filing deadline to January 31, 2015.
The program is for those who have suffered injuries and those who have family members who were killed in incidents directly related to the defective switches. Accepting money from GM means waiving the right to sue the automaker over the ignition switch that can move and shut down the engine while driving.
Fund administrator, Kenneth Feinberg, is responsible for approving and denying claims based on specific rules created by Feinberg. As of January 19, over 300 death claims have been submitted with 49 of those claims approved for payments. Many of the death claims still have to be evaluated, although about 50 death claims so far have been rejected.
The claim process breaks down non-death claims into serious injuries and less severe injuries. Out of 207 claims for serious injuries, 37 have been thrown out and seven have been approved. Over 2,300 claims have been submitted for less serious injuries and out of those, 234 were rejected and 65 have been approved for payments.
Earlier numbers released from Feinberg indicated about 1,000 claims were baseless because people submitted the forms without any supporting documentation. Another 500 claims allegedly had "insufficient evidence."
GM owners have until January 31 to file a compensation fund claim. Find out what you must do and documentation that must be provided by visiting www.gmignitioncompensation.com.