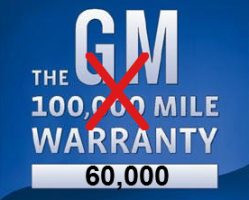 — Buying a car means looking at the warranty, and common sense says the longer the warranty the more likely the shopper is to believe the automaker is standing behind their product. Unless that automaker is General Motors, which is decreasing its warranty coverage on model year 2016 Chevrolet and GMC vehicles.
GM was apparently using the 100,000 mile/5-year warranty to help sell cars, but now believes the warranty really doesn't matter. The automaker is taking its 100,000 mile/5-year powertrain warranty and reducing it to 60,000 miles/5 years. And that's not the only decreased coverage that will start with 2016 models of Chevy and GMC vehicles.
GM says it maintenance programs will be cut in half, from four free visits within 24 months down to two visits within 24 months.
GM seems to believe a longer warranty really doesn't help sell Chevrolet and GMC vehicles, so there is no reason to provide customers extra piece of mind with a long warranty period relating to the mileage on the vehicles.
To be honest, the new GM warranty coverage terms will now match more closely to powertrain warranties from Ford, Chrysler and Toyota. But it's still a distance to catch up with Hyundai/Kia that provide powertrain coverage for 100,000 miles/10 years.
It's difficult to see how decreasing the length of warranty will help GM, and you have to wonder if the tremendous expenses related to defective ignition switches have anything to do with this. The automaker is paying out millions to compensate victims who were killed or injured by the faulty switches.
Additionally, GM has been battered by investigations, recalls and lawsuits associated with ignition switches that can move out of position and cut power to millions of cars.
One of those lawsuits involved Brooke Melton, a 29-year-old Georgia woman who was killed in 2010 when her 2005 Chevy Cobalt crashed after it went out of control and was hit by another vehicle. Her family had sued GM and settled the case for $5 million accusing GM of hiding the defective ignition switches from the public.
However, after realizing the scope of the problem and viewing more evidence that GM knew the switches were deadly, Melton's family re-filed the lawsuit and today, GM settled that case for an undisclosed sum.