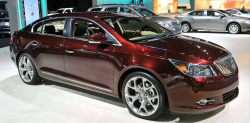 — General Motors has announced two recalls involving defects every car owner is tried of hearing about: Ignition switches and Takata airbags.
Chevrolet Silverado, Suburban, Tahoe and GMC Sierra
GM's ignition switch problems are back as the automaker recalls about 3,300 trucks and SUVs to replace the ignition lock housings. Although it's an ignition switch problem, it's a little different than ignition switch defects that caused hundreds of deaths and injuries over a 10-year period.
GM says the recalled trucks and SUVs include the 2014 Chevrolet Silverado and GMC Sierra and 2015 Chevrolet Suburban and Tahoe.
Previous ignition switches were known for moving too easily out of the "run" position and into the "accessory" or "off" positions. The truck and SUV recall is different due to ignition switches that can be difficult to turn because of ignition lock gears that cause the keys to get stuck in the "start" position.
However, the problem only occurs when it's hot inside the vehicle, and once the interior of the vehicle cools off or the ignition is bumped, the ignition switch can move into the "accessory" position while driving.
The defect was discovered by a GM employee who reported it through the "Speak Up for Safety" program created by GM after millions of cars had to be recalled for deadly ignition switch failures.
Most companies would want input from employees about possible product problems, and the company wouldn't need to create a special program just for that reason. Not General Motors.
Before the automaker was caught hiding known defects from the public and safety regulators for over 10 years, GM employees were encouraged to keep their mouths shut about possible problems.
A congressional investigation discovered that since 2008, there was a list of words GM engineers and employees were told to never use in reports. Employees were left with trying to report a dangerous defect without using the words "dangerous" or "defect."
Failed, never, problem, safety, serious and a host of other words were considered off-limits for use around the office.
The automaker didn't say when the ignition switch recall will begin.
Buick LaCrosse, Cadillac XTS, Chevrolet Camaro, Equinox, Malibu and GMC Terrain
It's only about 400 vehicles, but GM's recall because of Takata airbags is raising eyebrows not only because it involves Takata, but this time the airbags can explode from the side.
The recalled vehicles are the 2015 Buick LaCrosse, Cadillac XTS, Chevrolet Camaro, Chevy Equinox, Chevy Malibu and the GMC Terrain.
Takata discovered the problem during testing at a Mexico plant on October 5, 2015, when a seat-mounted side airbag metal inflator exploded. The test showed all the inflator components separated from each other during deployment and sent pieces of metal flying throughout the cabin of the vehicle.
Takata notified GM the next day about the failed airbag test and GM traced the inflators to specific assembly plants and vehicles.
Although all previous Takata airbag explosions are thought to have been caused by degradation of the chemical ammonium nitrate, GM and Takata have not determined a cause of the side airbag explosions. Both companies are conducting investigations to find the root cause of the problem.
GM notified its dealers on October 16 and owner notifications are planned to begin October 19, 2015. All notifications will be sent via Federal Express.
GM dealers will replace the seat-mounted side airbag modules. Concerned owners may contact customer service at the following numbers:
Buick: 800-521-7300
Chevrolet: 800-222-1020
Cadillac: 800-458-8006
GMC: 800-462-8782
GM's number for this airbag recall is 01320.
Read owner-reported complaints about the cars, trucks and SUVs named in the GM recalls: