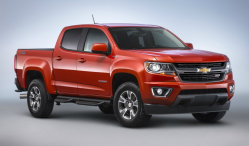 — General Motors is recalling more than 8,700 trucks because a supplier didn't do its job. The recalled trucks are the 2016 Chevrolet Colorado and the GMC Canyon.
The trucks have console compartment lid latch assemblies that may fail to keep the compartment doors closed in the event of a crash. Any items in the compartment could fly around and hit an occupant.
GM learned of the problem in September when the supplier of the console, Yanfeng, contacted the automaker about a possible problem with certain consoles. An employee noticed a console compartment door pop open after the console was placed on a table.
Yanfeng traced the problem to one of its suppliers that should have been throwing away console latch springs that had been rendered obsolete because of a design change. Instead, the supplier had been modifying the old latch springs and used them in the console compartments.
Not a great idea, but an idea that has now caused this recall.
The recalled 2016 Chevrolet Colorado trucks were built August 25, 2015, to September 24, 2015, and the GMC Canyon trucks were produced August 28, 2015, to September 24, 2015.
GM doesn't know when the recall will begin, but dealers will eventually replace the console compartment door latch assembly.
Owners of the 2016 Chevrolet Colorado who have questions should call 800-222-1020, and owners of the 2016 GMC Canyon can call 800-462-8782. The recall number is 16370.
CarComplaints.com has owner-reported complaints about the Chevy Colorado and the GMC Canyon.