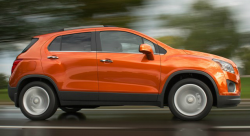 — General Motors is recalling almost 2,300 new cars to repair problems with the electric power steering. GM says the 2015 Buick Encore and 2015 Chevrolet Trax models have steering column assembly housings that can rub against the power steering circuit board. That can wear down the circuit board and cause a sudden loss of power steering.
The defect was traced to Nexteer, the Chinese supplier of the power steering column assembly. Four machines produced the steering column assembly housings from October 24, 2014 and February 11, 2015.
Nexteer first discovered a problem during routine testing, then GM's investigation determined one of the machines caused the housing to be manufactured incorrectly.
The affected 2015 Buick Encores were manufactured November 27, 2014, to February 24, 2015, and the recalled 2015 Buick Encore cars were built November 18, 2014, to February 17, 2015.
The defect is serious because the loss of power steering assist can occur in the blink of a eye without warning, but right now GM doesn't know when the recall will begin. Dealers will eventually inspect the steering column assemblies for problems with the housings and replace the assemblies, if necessary.
Owners of the 2015 Buick Encore can contact Buick customer service at 800-521-7300 while owners of the 2015 Chevrolet Trax can call 800-222-1020. GM's number for this recall is 15168.