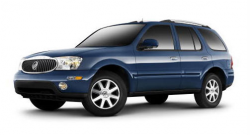 — General Motors is recalling almost 10,000 vehicles to fix driver-side door master power window switch modules that can catch on fire. The automaker says water can cause corrosion to the switch and lead to a short-circuit that melts the switch.
It's the third recall for the exact same problem, a problem which has caused at least 30 reported fires. Based on history, GM is warning owners to keep the vehicles parked outside until all repairs are complete.
The original June 2013 recall involved about 193,000 GM vehicles, then an August 2014 recall was ordered because the first recall failed.
GM says it received five complaints about smoke or fire from driver-side door window switches in 2006-2007 Chevy TrailBlazers, all between May 2014 and July 2015. All five vehicles had been recalled for the same problem and allegedly repaired during previous recalls.
Those recalls provided two different fixes based on whether the door module was working properly at the time technicians checked the vehicles. If a door module was working properly, a protective coating was applied to the printed circuit board of the module. If GM found a module wasn't working properly, the module was replaced.
GM dealers reported all five TrailBlazers had their modules replaced. However, GM later discovered the procedure of using only a protective coating didn't do anything to help the problem, so those vehicles were recalled once again to replace the door modules.
For the five vehicles that had problems after repairs were made, GM found the vehicles never did receive the replacement modules because dealers had used the wrong recall repair labor codes in the system. That's why the 10,000 vehicles are being recalled again.
GM found the following vehicles were excluded from the previous recall:
2006 Chevrolet TrailBlazer EXT
2006-2007 Chevrolet TrailBlazer
2006 GMC Envoy XL
2006-2007 GMC Envoy
2006-2007 Buick Rainier
The automaker says the vehicles are still susceptible to corrosion which could short-circuit the circuit board. A short can cause the power door locks and power window switches to have minds of their own.
The door locks and windows might stop working or work only at certain times, or the windows could raise and lower without any input from anyone. But the really fun part is the overheating which can melt the door module and cause a fire, even if the vehicle is parked without the key in the ignition.
GM says it doesn't know when the third recall will begin, which is nothing new because the previous recalls took months to begin.
Buick owners may contact customer service at 800-521-7300, Chevy customers can call 800-222-1020 and GMC owners can call 800-462-8782. GM's recall number is 15700.
Read what owners say about the models included in the power window switch recall: