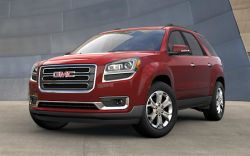 — General Motors is recalling over 31,600 model year 2016 SUVs to fix front windshield wiper motors that can overheat and catch fire. GM says the recalled SUVs include the 2016 Chevrolet Traverse, Buick Enclave and GMC Acadia.
GM hasn't released many details yet, but is taking the problem seriously because the automaker will arrange to get the SUV to a dealer if it is raining. Further, GM says owners should not drive in the rain or do anything that would cause the wipers to be activated.
If an owner needs a rental car to keep their SUV off the road until it is repaired, GM says a loaner will be available until replacement parts are available.
The automaker believes 29,295 SUVs are in the U.S., with another 2,400 in Mexico and Canada.
GM says a supplier built wiper motor covers that were manufactured using a broken tool. This tool produced wiper motor covers that allow internal terminals to move and potentially contact each other, creating an electrical short. Considering the wipers are used when it's raining, GM didn't say if the rain could possibly dampen the motor and put out a fire before the wipers fail.
General Motors says it has already begun sending owner notifications with directions to never use the wipers until they are repaired. GM dealers will replace the windshield wiper motor cover assemblies.
Owners may contact Chevrolet customer service at 800-222-1020, Buick at 800-521-7300, and GMC customer service at 800-462-8782. GM's recall number is 15780.