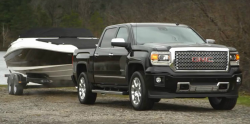 — A General Motors towing capacity class-action lawsuit has been filed concerning the 2014 GMC Sierra 1500 and 2014 Chevrolet Silverado 1500.
The towing capacity lawsuit alleges the trucks were advertised with towing capacities that were false. According to the plaintiff, the Sierra 1500 and Silverado 1500 trucks were sold with an advertised capacity of 8,800 pounds, nearly 2,000 pounds more than the trucks could actually tow.
The proposed class-action lawsuit was filed by Richard Quintero, who claims he purchased a 2014 GMC Sierra 1500 because of allegedly better towing capacity compared to the 2013 model.
Quintero says he needed a new truck that could tow a 5,000 pound trailer he used to haul a golf cart. With the golf cart weighing about 1,000 pounds, the plaintiff says the truck could easily handle the load because the towing capacity was 8,800 pounds.
After purchasing the 2014 Sierra 1500, Quintero says with plenty of towing capacity still available, he purchased a new trailer that weighed 6,700 pounds. With the 1,000 pound golf cart riding along, it brought the towing load to 7,700 pounds, 1,000 pounds under the advertised Sierra towing capacity. However, the plaintiff later received a letter from General Motors that said the advertised towing capacity had been wrong.
The automaker said the Sierra 1500 capacity was 6,700 pounds, not enough to haul the trailer and golf cart. In addition to the 2014 GMC Sierra 1500, the towing capacity was also wrong on 2014 Chevrolet Silverado 1500 trucks.
Quintero says there is no way he would have purchased the truck if the true towing capacity had been known, and no way would he have purchased a new heavier trailer. The lawsuit says hauling the trailer and golf cart was creating a clear safety hazard that Quintero didn't know existed.
The lawsuit alleges violations of consumer protection laws in California, breach of express warranty and negligent misrepresentation.
The GMC Sierra 1500 and Chevy Silverado 1500 towing capacity lawsuit was filed in the U.S. District Court Central District of California - Richard Quintero v. General Motors Company, et al.
The plaintiff is represented by Boucher LLP, Kiesel Law LLP, and Morgan & Morgan Complex Litigation Group.
Read owner-reported complaints about the trucks named in the towing capacity lawsuit: