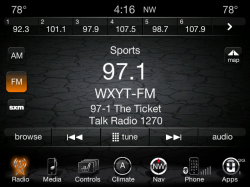 — In its "new" role as enforcer of U.S. automobile safety, the National Highway Traffic Safety Administration (NHTSA) hasn't wasted any time in opening investigations into the hacking of Fiat Chrysler vehicles.
Fiat Chrysler Recall Query
Just days after Fiat Chrysler announced a recall of 1.4 million vehicles to prevent them from being hijacked by hackers, NHTSA is investigating if the recall remedy will actually fix the problems.
Chrysler announced the recall after the public learned two guys with laptop computers hacked a Jeep and took control, with frightening results. Before you run scared and buy a horse and buggy, the hacking feat wasn't a random act of terror. The hacking of the Jeep Cherokee was planned and the hackers had plenty of time to plan their attack.
Media coverage forced the automaker to take quick action with the recall of the following vehicles:
2014-2015 Dodge Durango, Jeep Grand Cherokee and Jeep Cherokee
2013-2015 Ram 1500, 2500, 3500 and 4500/5500
2013-2015 Dodge Viper
2015 Chrysler 200, 300
2015 Dodge Charger and Challenger
The vehicles are equipped with Uconnect 8.4A (RA3) and 8.4AN (RA4) radios that contain a security vulnerability that allowed the Jeep to be hacked. Chrysler said it remotely closed an open port on July 22, 2015, which was meant to block long-range access through the cellular network.
In addition, the automaker will use a USB drive to upgrade the software in all affected vehicles to prevent future attacks.
NHTSA has opened the recall query to determine if the remote port closure and USB drive will be enough to prevent hackers from driving the vehicles into a ditch.
Harman Kardon Equipment Query
NHTSA has opened a separate investigation into the Harman Kardon radios installed in the 1.4 million recalled Chrysler vehicles. The affected radios are the Harman Kardon Uconnect 8.4A (RA3) and 8.4AN (RA4) that allowed hackers to access the inner workings of a Jeep Cherokee.
The government has opened the equipment query to gather information about the Uconnect radios in the Chrysler vehicles to determine similarities in other radios used by other car manufacturers.
CarComplaints.com will provide results of the investigations once NHTSA has completed its work.
Read complaints about the vehicles named in the recall: