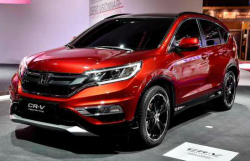 — Honda and Takata are once again partners in recall news as Honda announces 515 model year 2016 Honda CR-V SUVs need airbags repaired. The automaker discovered the problem after a driver's side Takata front airbag exploded during a test in a Mexico plant.
Inflators from the lot were being made for installation in airbag modules meant for 2016 Honda CR-V SUVs in Canada and the U.S.
After consulting with Takata and the National Highway Traffic Safety Administration, Honda says it doesn't appear the exploding inflator is related to other Takata airbag inflator problems.
In previous airbag inflator explosions, the explosive chemical used in the inflators is allegedly what caused the inflators to rupture. The chemical, ammonium nitrate, can become unstable when affected by age and moisture. In the Mexico incident, Takata believes the airbag inflator rupture was the result of a failure of the metal inflator casing.
Honda says no injuries have occurred as a result of ruptured airbag inflators in the recalled 2016 Honda CR-V SUVs, which were manufactured October 12, 2015, to October 19, 2015.
Although the cause might be different than other Takata airbag explosions, the results are the same. Any accident that would cause the airbag to deploy can also cause the metal inflator to explode into flying shrapnel.
The recall will begin December 4, 2015. Honda dealers will replace the driver-side front airbag modules in the CR-V SUVs.
Owners may contact Honda customer service at 800-999-1009 and use recall number JV9.
CarComplaints.com has complaints about the Honda CR-V and many additional Honda models.