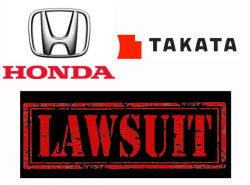 — A South Carolina woman has filed a lawsuit against Honda and its airbag supplier Takata after suffering injuries from metal fragments from an airbag.
Plaintiff Angelina Sujata says she was seriously injured in a 2012 crash of her 2001 Honda Civic. According to the lawsuit, the Honda Civic was struck from behind which caused the driver-side frontal airbag to deploy. The airbag allegedly exploded and sent shrapnel into the chest of Sujata causing her to require two surgeries, the most recent to remove pieces of metal that were causing her chest pain.
The lawsuit says it was a year after the accident that Sujata learned about the recall of her 2001 Honda Civic concerning exploding Takata airbags. Those airbags have caused the recalls of millions of vehicles and have been linked to previous deaths and injuries.
Both Honda and Takata have faced government investigations and lawsuits over the defective airbags, with Honda forced to pay $70 million in fines for failing to report injuries and deaths. Some of those injuries and deaths were connected to exploding Takata airbags.
The South Carolina lawsuit claims Angelina Sujata would not have suffered injuries from the Civic airbag if Honda and Takata would have admitted long ago the airbags were dangerous. Further, the complaint claims the Takata airbag was manufactured and installed in the Honda Civic even though the metal inflator in the airbag was a known deadly device.
Sujata said she filed the lawsuit because no driver should have to suffer what she has suffered just because a company puts profits over safety.
The lawsuit accuses Honda and Takata of general and gross negligence, reckless conduct and breach of warranty.
The Honda Civic defective Takata airbag lawsuit was filed in the U.S. District Court for the District of South Carolina, Columbia Division - Angelina C. Sujata vs. Takata Corporation et al.
Plaintiff Angelina Sujata is represented by Motley Rice LLC.