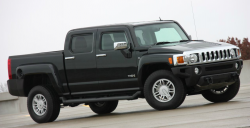 — General Motors is recalling about 197,000 Hummer SUVs after 42 fires were reported along with three people who were burned by those fires.
Hummer H3, Hummer H3T
You don't see Hummer in the recall news very often, but this one takes in a large number of SUVs for a dangerous condition. GM says about 197,000 model year 2006-2010 Hummer H3 and 2009-2010 Hummer H3T SUVs are at risk of fires.
Although no accidents have been blamed on the problem, three people have been burned from fires that started with overheating modules. The defective module controls the speed of the heating and air conditioning blower motor, but the module can overheat when the blower motor is used for long periods of time.
The fire risk arises from any surrounding plastic that can melt from the hot module.
GM says the three people who were injured received minor burns, but two SUVs were completely destroyed by fire.
Although General Motors didn't say when the Hummer recall will begin, the automaker did say dealers will need to replace the module and wiring harness.
Owners of the Hummer H3 and Hummer H3T can contact GM at 800-222-1020.
Read owner reported complaints about the Hummer SUVs named in the recall: