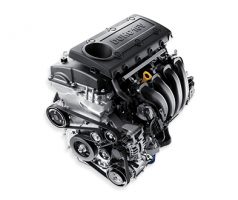 — A Hyundai Sonata engine failure lawsuit accuses Hyundai of manufacturing defective engines in model year 2011-2012 Sonatas.
The class-action lawsuit was filed by Hyundai Sonata owner, Elizabeth Mendoza, who purchased a 2011 Hyundai Sonata in February 2012. In October 2014, and with about 85,000 miles on the odometer, Mendoza heard a loud knocking noise coming from the engine.
She brought the Sonata to a dealership and was told a piston had blown out. Mendoza asked for her car to be repaired under warranty, but the dealership refused to make the repairs. However, the dealer said the engine could be replaced for $4,500. Mendoza said no and took the Sonata to a mechanic and had the engine replaced at a cost of $3,000.
The plaintiff claims she had the car serviced at Hyundai's recommended maintenance intervals and there was no reason the Theta II engine should have seized.
The Sonata Theta II 2.4L engine failure lawsuit alleges Hyundai knew when the connecting rod bearings start to fail, metal debris from the bearings is sent throughout the engine through contaminated engine oil.
Mendoza claims the problem usually occurs during and shortly after the limited warranty has expired. Additionally, she claims the connecting rod bearings can cause complete engine failure while driving at any speed and cause serious dangers to the occupants.
The plaintiff further claims Hyundai concealed the engine defects to keep selling the cars for more than they were worth. Additionally, the lawsuit alleges Hyundai could have fixed the engines long ago but chose the opposite because the engine failures typically occurred after the warranty period.
The Hyundai Sonata engine failure lawsuit was filed in the U.S. District Court for the Northern District of California - Elizabeth Mendoza vs. Hyundai Motor Company, LTD, Hyundai Motor America, Inc.
The plaintiff is represented by Chimicles & Tikellis LLP and McCuneWright LLP.
Read complaints about engine failure in the 2011 Hyundai Sonata and 2012 Hyundai Sonata.