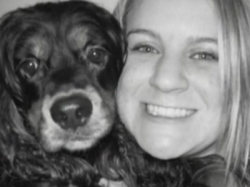 — The family of Georgia woman Brooke Melton has settled a second lawsuit out of court that accused General Motors of hiding deadly defects in millions of ignition switches.
Melton was killed on her 29th birthday after her 2005 Chevy Cobalt went out of control, hit an oncoming vehicle and landed in a creek 15 feet below. Accident investigators determined Brooke was traveling 58 mph with a posted speed limit of 55.
Brooke's family hired an engineer who discovered a problem with the ignition switch of the Cobalt. The problem was the switch moving out of the "run" or "on" position from a bump in the road or a small bump to the switch from a knee.
Even the weight of the key could move the ignition, which eventually caused GM to order its customers to remove key rings, fobs and everything else attached to the ignition keys. Once the ignition switch was turned off, driver's suddenly lost all engine power as well as power steering and power brakes. If an accident occurred, as in Brooke's case, the airbags failed to deploy with the ignition switched off.
The Melton's sued GM and reached a $5 million settlement agreement out of court. All this occurred before GM had ordered recalls related to defective ignition switches. Once GM started ordering recalls to replace the switches, Brooke's family then realized GM had ignored the defect for over 10 years and there were likely many more victims in addition to Brooke.
The Melton's filed a second lawsuit accusing GM of hiding the defect that killed their daughter. By this time GM had faced numerous lawsuits, recalls and congressional hearings that clearly showed GM ignored the problems for over 10 years.
The automaker also opened a compensation fund for those injured or family members of those killed in accidents related to the ignition switches. Although exact details are sealed, GM has settled the second lawsuit filed by the Melton's and it's believed the out-of-court settlement involves the compensation fund.
As of March 13, 2015, GM has approved 67 death claims and 133 injury claims, totaling $93 million paid to victims of the ignition switches.
GM won't comment on the settlement citing privacy issues, but it's believed this second settlement with the Melton's was far above the $5 million originally agreed upon.