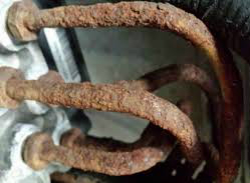 — The National Highway Traffic Safety Administration (NHTSA) has closed an investigation into rusted brake lines in model year 1999-2003 General Motors trucks and SUVs.
After making 2 million GM owners wait five years for an answer, NHTSA says it could find nothing wrong with the brake line assemblies in the following 1999-2003 GM vehicles:
The original investigation was opened in 2010 and expanded in January 2011, after owners in cold-weather states complained their brake lines rusted so severely the lines could break. NHTSA said over 3,600 complaints have been filed about rusted brake lines with the loss of braking ability allegedly linked to 107 crashes and 40 injuries.
The investigation focused on vehicles located in states where snow and ice often occurs, specifically Connecticut, Delaware, District of Columbia, Illinois, Indiana, Iowa, Maine, Maryland, Massachusetts, Michigan, Minnesota, Missouri, New Hampshire, New Jersey, New York, Ohio, Pennsylvania, Rhode Island, Vermont, West Virginia and Wisconsin.
With only a few exceptions, all the brake lines in the GM vehicles came from the same supplier that used a "common double-wall, brazed steel pipe design with a combination of hot dip Zinc-Aluminum corrosion protection coating and Aluminum paint outer layer known in the industry as AlGal"
Without explaining why it took an entire five years to reach its conclusions, NHTSA said there is nothing wrong with the brake lines. Simply put, the line assemblies work as they should and like anything else, can be damaged by outside forces. In this case, the primary outside force is salt, specifically road salt used in cold-weather states.
NHTSA says the brake line corrosion is normal wear and the original coating, as well as the brake line assemblies, do not contain a safety defect.
Safety regulators found that most of the complaints were filed about vehicles more than 10 years old. For vehicles with less than 8 years of service, the complaint rates were small in all areas, cold-weather states included. As the vehicles got older, the brake line complaints increased.
NHTSA says all vehicle owners in states where road salt is often used should wash the undercarriage of the vehicles as much as possible in winter. The coating on the lines is what wears down from corrosive salt, ice and sludge covering the lines.
Read complaints about the trucks and SUVs listed in the rusted brake line investigation: