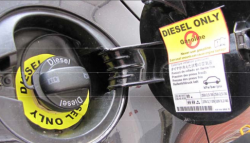 — The National Highway Traffic Safety Administration (NHTSA) has closed an investigation into Volkswagen cars for alleged high pressure fuel pump failures.
NHTSA opened the investigation four years ago after receiving 160 complaints about the 2009-2010 Volkswagen Jetta, Golf and Audi A3 TDI. NHTSA closed the investigation after determining the problems were likely caused by owners filling the gas tanks with unleaded gasoline instead of diesel fuel.
VW couldn't find any problems with the fuel pumps and told NHTSA the pumps were specifically designed for the U.S. with margins for fuels that are out of specification. To tackle the issue, Volkswagen started a service campaign in 2013 to install protection devices to keep owners from using non-diesel fuel.
NHTSA found the original complaints showed the problems with the wrong fuel going through the fuel pumps typically didn't cause the engines to stall. In cases where engines did stall, owners received numerous warnings the engines were getting ready to stall.
The government also found no reports of crashes or injuries and the stalling rates were less than one percent over the course of three years.
NHTSA says it will continue to monitor any complaints that roll in, but as long as VW owners actually use the correct fuel in their cars, there shouldn't be additional problems.
Read what owners say about the VW and Audi cars involved in the investigation: