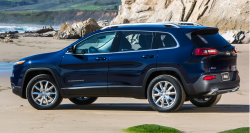 — A class-action lawsuit accuses Fiat Chrysler of manufacturing the 2014 Jeep Cherokee with transmission problems that cannot be fixed. The Jeep Cherokee transmission lawsuit was filed by New Jersey plaintiff Stacy Oquendo, who bought her 2014 Cherokee in April 2014.
The plaintiff claims the Cherokee transmissions are so riddled with problems that Jeep dealers have no idea how to make repairs.
The lawsuit alleges Fiat Chrysler delayed the launch of the 2014 Jeep Cherokee to keep working on the new transmissions, then quickly had to issue two technical service bulletins to dealers.
One bulletin described how to completely recalibrate the software to match the owner's driving style. The repairs were supposed to make shifting easier from first to second and second gear to third. However, owners kept complaining.
The 9-speed transmissions have caused Cherokee owners to keep complaining about delayed shifting, lurching, banging and jumping movements. Some owners claim the transmissions finally died and when Chrysler provided replacement vehicles, those transmissions also experienced the same problems.
"I had been having a really bad jumping/lurching/banging when accelerating from a stop. Less then 2 weeks after the update my transmission DIED (car totally stopped working) while driving to work in rush hour traffic on Interstate 40 going 65 mph. I am LUCKY I was not killed. Its been a week and I still don't have my car back, and 2 of the loaner cars they gave me (with the same transmission) BOTH did the EXACT SAME THING." - 2014 Jeep Cherokee owner / Apex, North Carolina
"From the day I purchased this car, 2/14/14 (Valentines Day), it has shifted roughly. Jerking and violently shaking on a daily basis. I have not had this car for over a year and no one at the dealership has been able to fix it. I feel violated and ripped off by Chrysler and the dealership I purchased the car from. I will never purchase another Chrysler vehicle! Worst car in the world." - 2014 Jeep Cherokee owner / Moore, Oklahoma
"The transmission shifts rough in the lower 3 gears. The dealerships shop manager told us there is not a fix for it. There are software upgrades but they do not fix the problem. I have had one upgrade but it did nothing. The shop manager told me the newest upgrade make the transmission shift from 1st to 3rd, skipping 2nd. He also told me a replacement transmission would make it worse." - 2014 Jeep Cherokee owner / Denver, Colorado
The plaintiff says she and other 2014 Jeep Cherokee owners have lost the use of the SUVs while they are repaired and the value of the Cherokees is diminished due to the defective transmissions.
The 2014 Jeep Cherokee transmission lawsuit is being held in the United States District Court for the District of New Jersey - Stacy Oquendo v. Chrysler Group, LLC, FCA US LLC.
The plaintiff is represented by the Law Office of Howard A. Gutman.