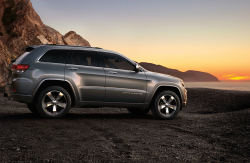 — The National Highway Traffic Safety Administration (NHTSA) has opened a formal investigation into alleged roll-away incidents in 2014-2015 Jeep Grand Cherokee SUVs.
NHTSA noticed complaints submitted by Jeep owners and identified similar reports contained in early warning documents submitted by Fiat Chrysler.
Reports say the 2014-2015 Jeep Grand Cherokee can roll away after the gear shifter is put into "park." The incidents have occurred while the engines were running and with the engines shut down.
"While the vehicle was parked on a slope, the vehicle shifted into drive without the brake pedal being depressed. The vehicle crashed into a metal post and the air bags failed to deploy." - 2015 Jeep Grand Cherokee owner / Austin, Texas
"Vehicle was put into park while running. The vehicle then started to roll backwards while still in park and then collided into another parked vehicle. While the vehicle was rolling backwards 3 other occupants proceeded to evacuate the vehicle before it collided with the other parked car." - 2015 Jeep Grand Cherokee owner / Livonia, Michigan
"When moving the gear shift all the up from drive to park the car is not always in park but reverse. This has happened multiple times and the car will begin moving backward when I take my foot of the brake. It seems like the computer is not quick enough to recognize the movement of the shifter." - 2015 Jeep Grand Cherokee owner / Methuen, Massachusetts
NHTSA says the affected 408,000 model year 2014-2015 Grand Cherokees are equipped with an electronic gear selector known as a shift-by-wire system.
Conventional gear selectors have shifters that move along a gate path, but in the Jeep Grand Cherokee the gear selection is made by pressing the shifter-paddle forward or backward.
The investigation will determine if the Jeep Grand Cherokees should be recalled or if the investigation should be expanded or closed.
CarComplaints.com will provide results of the investigation after NHTSA has completed its task.