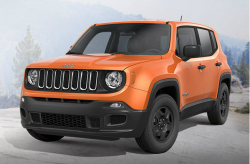 — Chrysler is recalling over 7,800 model year 2015 Jeep Renegade SUVs after discovering their radios are vulnerable to hackers.
In July 2015, Chrysler recalled 1.4 million cars, trucks and SUVs after two hackers took control of a Jeep Cherokee and sent it off a highway. The July recall saw the Jeep Grand Cherokee and Jeep Cherokee recalled to prevent hackers from taking control, but there was no mention of the Jeep Renegade needing repairs.
That has now changed as Chrysler says the SUVs are affected by the same Harman Kardon Uconnect 8.4A (RA3) and 8.4AN (RA4) radios. The SUVs are equipped with radios that contain a security vulnerability that allowed the Jeep Cherokee to be hacked. Those radios are now under a federal investigation by the government after the much publicized hacking of the Jeep Cherokee.
Chrysler says a communications port was unintentionally left in an open condition allowing it to listen to and accept commands from unauthenticated sources. Additionally, the radio firewall rules were open by default which allowed external devices to communicate with the radio.
However, Chrysler doesn't know of any real-world instances of hackers taking control other than in the test of the Jeep Cherokee. The automaker is also unaware of any accidents or injuries related to the radios.
The automaker approved an extended warranty program to provide free software updates to all affected owners, except Chrysler didn't know at the time the Renegade SUVs needed the updates.
The cellular carrier for the infotainment system closed access to the open radio port on the previously recalled vehicles, but unknowingly to Chrysler at the time, the open ports were also closed on the Renegade SUVs. That move removed any risk of long-range remote hacking.
The recalled Jeep Renegades were built from September 18, 2014, to June 25, 2015, and all have the radios that contain the software vulnerabilities.
Fiat Chrysler doesn't know when the recall will begin. The automaker will mail Renegade owners a USB drive to use for the software update, or owners can use their own USB drive and download the update by visiting www.driveuconnect.com/software-update/. Owners of the 2015 Jeep Renegade can also visit a dealer to have the software updated.
Owners may contact Chrysler customer service at 800-853-1403 and give them recall number R45.