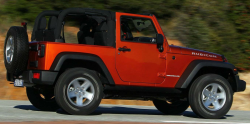 — Jeep Wrangler clockspring and airbag problems will get a closer look during an investigation by the National Highway Traffic Safety Administration (NHTSA).
The safety agency, currently taking a beating over its investigating abilities, will check for problems with the clockspring wiring in 630,000 model year 2007-2012 Jeep Wranglers. NHTSA says the Wranglers are left-hand-drive, a note made in this investigation because right-hand-drive Wranglers have already been recalled.
NHTSA investigated right-hand-drive Jeep Wranglers in 2011 after reports airbag warning lights indicated airbag problems. The problem was linked to failure of the clockspring wiring in the driver-side airbag electrical circuit. Following the investigation, a recall was issued on 2008-2012 right-hand-drive Jeep Wranglers and a warranty extension was applied to left-hand-drive model year 2007-2012 Jeep Wranglers.
Owners have complained the left-hand-drive Jeep Wranglers should have been included in the previous recall, especially considering people can pay as much as $500 to replace the clockspring.
"My understanding from local Jeep dealer service department, Jeep has issued a recall on right hand 2008 Wranglers but not left hand Jeep Wranglers. Sounds to me like the right hand driven Jeep's were used as commercial and the left hand Jeep Wranglers just take a little longer to fail." - 2008 Jeep Wrangler owner / Joppa, Maryland
"I have now had two used Jeeps, 2007 and 2008, both under 40000 miles with the same clock spring problem. Because I brought them used the warranty doesn't not carry over. There are a lot of write ups online about the same problems with these same years. There is a recall on right hand drive for the same years. I don't think I should have to pay to fix something that's related to my airbag working properly on a Jeep with low miles." - 2008 Jeep Wrangler owner / Boca Raton, Florida
NHTSA says 221 complaints have been filed about airbag problems in the subject SUVs currently under investigation. Jeep dealers often report finding diagnostic trouble code B1B02: Open squib to driver's airbag. The trouble code indicates a failure of the driver-side airbag.
CarComplaints.com will update you with the results of the investigation.
Read complaints about the Jeep Wranglers named in the investigation: