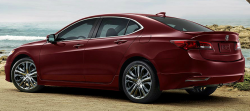 — A model year 2015 Acura TLX transmission lawsuit has been filed in California federal court that alleges the transmission is dangerous and a hazard to driving. Plaintiff Roger Kornfein filed the lawsuit against Honda, the parent company of Acura, claiming the TLX transmission can cause problems with controlling the car.
Mr. Kornfein claims his new 2015 Acura TLX started experiencing problems just a few weeks after buying the car. The plaintiff says while making a turn at an intersection, the transmission felt like it shifted into neutral while the engine RPM increased.
The complaint also alleges the transmission downshifts suddenly when the car is traveling under 20 mph. Kornfein says taking off from a stop light can be an adventure because the Acura TLX takes a few seconds to shift between gears with a feeling the car is jerking forward.
The lawsuit alleges Acura mechanics couldn't replicate the problem of the TLX feeling like it was going into neutral and the car showed no diagnostic error codes.
Kornfein says he has made numerous trips to the dealer and all he received was a response from Honda's corporate office denying the car has transmission problems.
While Honda might be denying transmission problems in the 2015 Acura TLX, owners have told CarComplaints.com of similar problems as mentioned in the TLX lawsuit.
"I am also an unhappy owner of a 2015 Acura TLX. When I first start driving the car when cold and I am in traffic, I will start going and then come to a complete stop the car will suddenly lurch forward (almost like someone has hit you in the rear end). I thought I was going to rear end the person in front of me! This is the fourth time this has happened to me, completely unacceptable for a premium luxury brand that costs $35,000!" - 2015 Acura TLX Owner / Alexandria, Virginia
"When moving from a stopped position, the car will sometimes make a loud sound like the transmission is trying to shift into a gear that it is not supposed too. Rpm's do jot increase and the car will not move forward for a couple of seconds. This happens as I am pulling out. Has happened when the vehicle has been cold or warmed up." - 2015 Acura TLX Owner / University Place, Washington
The proposed class-action lawsuit accuses Honda of violating the California Consumers Legal Remedies Act, California's Unfair Competition Law, Oregon's Unfair Trade Practices Act and breaches of warranty.
The Acura TLX transmission lawsuit was filed in the U.S. District Court for the Central District of California - Roger Kornfein v. American Honda Motor Company, Inc.
Plaintiff Roger Kornfein is represented by Gibbs Law Group LLP.
In December 2014, the 2015 Acura TLX was recalled to replace the transmissions, but Acura says that recall was to fix problems with the cars not shifting into park.