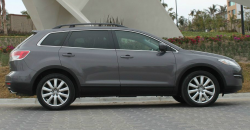 — After complaints about Mazda CX-9 suspension problems, the National Highway Traffic Safety Administration (NHTSA) has opened an investigation into reports of lower ball joints breaking.
Owners of the 2007-2008 Mazda CX-9 say the lower ball joints can separate in the front suspension and cause the front wheels to dislodge from the cars.
"I was making a right turn from a parking lot onto a road with my two children in the car when a loud crunch happened, the vehicle jerked left while still moving forward and I was unable to steer or brake. The car came to an abrupt stop and I couldn't get the driver's door open. I walked around to the front of the car while in traffic and noticed loose parts that had been ejected from the wheel, leaking brake fluid, and the driver's side front wheel was no longer attached and had wedged under the car." - NHTSA complaint
"While making a right turn into a parking place, the right front ball joint broke and CV joint became disconnected, causing the wheel to become disconnected from the car and pushing the wheel well back under the passenger door, making it inoperable. The tow driver said I must have hit something really hard, but in the two and a half years I've had this car, I've never hit anything!" - NHTSA complaint
NHTSA says it received the first complaint in October 2013, then two complaints in 2014 and three additional complaints during the first five months of 2015. One Mazda CX-9 owner said the lower ball joint broke while the car was traveling 40 mph and five owners said the fractures occurred while doing under 20 mph.
Additional reports were submitted directly to Mazda and provided to the government in Mazda's early warning reports.
The government says four of the reports came from states where a lot of road salt is used in the winter, which means NHTSA will look at corrosion issues in the cars.
The investigation is currently preliminary in nature and could be upgraded, closed or a recall of 54,000 Mazda CX-9 cars could be ordered.
CarComplaints.com will update you when results of the investigation are available.