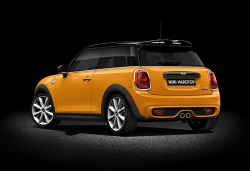 — Over 30,000 MINI Cooper compact cars because rear seat passengers might not be protected in a side-impact crash. The recalled cars include the 2014-2015 MINI Cooper, MINI Cooper S Hardtop 2-door and 2015 MINI John Cooper Works Hardtop 2-door.
In January 2015, MINI Cooper Hardtops were recalled for the identical problem. At the time, MINI had no idea how it would fix the problem, but apparently the "fix" didn't work.
In July, the National Highway Traffic Safety Administration performed tests on the MINI models and some of the cars flunked. However, there have been no reports of accidents or injuries related to the defect.
In an effort to fix the problem once and for all, MINI will install additional energy absorption material between the rear interior side panels and the exterior of the car. An additional small foam patch will be installed if the car was built before May 15, 2014.
The MINI recall should begin September 12, 2015. Affected owners can contact MINI customer service at 866-825-1525.
Please note this recall supersedes the January recall.