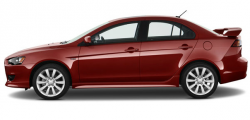 — Mitsubishi is recalling 130,000 vehicles in two recalls, both occurring about five years after the automaker first learned of the problems.
The First Recall
The largest of the two recalls involves 77,000 vehicles to replace the blower motor used for the heating and cooling system in the:
2009-2011 Mitsubishi Lancer
2010-2011 Mitsubishi Lancer Sportback
2010-2011 Mitsubishi Lancer Evolution
2009-2011 Mitsubishi Outlander
2011 Mitsubishi Outlander Sport
Why the Wait?
Mitsubishi waited five years to recall the vehicles after receiving the first report of problems in March 2010. The automaker received a report about a strange noise coming from under the passenger seat.
After a five-month investigation, Mitsubishi determined the noise was caused by the shaft and bearing inside the blower motor for the heating and cooling system. After monitoring blower motor failures for the past four years, Mitsubishi finally ordered a recall because a defective windshield defroster is a safety risk.
Mitsubishi hasn't announced when the blower motor recall will begin, but said dealers will replace the blower motor in all affected vehicles.
The Second Recall
Another 53,400 Mitsubishi vehicles need to be repaired to keep owners safe on the roads. If you can imagine driving through a rain storm at night and losing the windshield wipers, headlights and tail lights all at once, that's possible on the following vehicles:
2009-2010 Mitsubishi Lancer
2009-2010 Mitsubishi Outlander
2010 Mitsubishi Lancer Sportback
2010 Mitsubishi Lancer Evolution
As in the previous recall, Mitsubishi waited five years to recall the vehicles after the first reported incident. The automaker said a problem was first reported in 2009 in Japan and an investigation in 2010 blamed the problem on a supplier.
Mitsubishi says problems with the electronic control unit can cause too much electrical resistance and cause a sudden loss of headlights, tail lights and windshield wipers. Although the thought of that occurring is scary, the automaker says it's unaware of any accidents or injuries related to the defect.
Mitsubishi dealers will replace the electronic control unit, but the automaker has not said when those repairs will begin.
For questions about either recall, contact Mitsubishi customer service at 888-648-7820. The electronic control unit recall number is SR-15-002. The number for the blower motor recall is SR-15-003.
Read what Mitsubishi owners say about the vehicles named in the recalls.