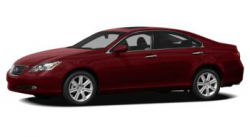 — The National Highway Traffic Safety Administration (NHTSA) has been petitioned to open an investigation into low-speed surging in various models of Toyota vehicles.
Gopal Raghavan, who has a Ph.D. in electrical engineering, petitioned NHTSA after his wife allegedly experienced an unintended acceleration event in her 2009 Lexus ES 350 in February 2015.
According to Mr. Raghavan, his wife was pulling into a parking spot in a parking lot when the Lexus accelerated suddenly and crashed into large bushes. The front-end was smashed but Raghavan's wife and daughter were not injured.
The petition says Lexus investigated the event data recorder and found nothing to indicate a defect in the car. However, Mr. Raghavan says Toyota's approach to finding the root cause of the problem appears to be incomplete at best and reckless at worst.
Raghavan says the data recorder shows the RPMs doubled even though the gas pedal wasn't pressed. The recorder also shows the brake pedal wasn't touched during the event. Mr. Raghavan says his professional opinion is the accelerator is either calculating an incorrect accelerator value or receiving a noise spike on the accelerator sensor.
Toyota has spent years fighting accusations its cars experience sudden unintended acceleration, including incidents that occur at slow speeds.
In May 2015, the owner of a Toyota Corolla petitioned NHTSA to investigate low-speed surge events after the owner claimed his car crashed into another vehicle. The petition said the event data recorder proved the car kept moving forward with the brake pedal pressed.
NHTSA declined to open a Corolla investigation after the agency said it tested the Corolla and could find nothing wrong, even after putting 2,000 miles on the car. The agency also said it proved the brakes could keep the car from moving even with the engine at full throttle.
The agency will evaluate the petition from Mr. Raghavan and make a grant or deny decision.
8/27/2015 - UPDATE: NHTSA declines to open an investigation.