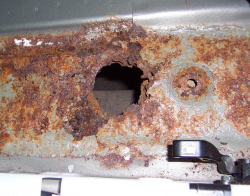 — Alleged Nissan Altima floorboard rust problems which landed the automaker and Altima owners in court still continues as Nissan filed a motion to dismiss the proposed class-action lawsuit.
Filed in the U.S. District Court for the Northern District of Illinois, plaintiff Marie DeMaria claims the 2002-2006 Nissan Altima floorboard rust begins from the inside of the car and works its way to the outside of the floorboards.
DeMaria argues the Nissan cars with severe floorboard rust can't pass vehicle inspections without owners replacing the floorboards, a job that could cost as much as $3,000. Without the repairs to pass inspection, the Altimas can't legally be on the roads and must therefore be parked.
The lawsuit alleges the automaker should have known the floorboards would eventually rust. However, in its motion to dismiss, Nissan said it had no knowledge of a problem with the floorboards and in fact, couldn't have known what would happen years later.
The automaker claims the majority of rusted floorboard complaints started occurring 8 to 12 years after the cars were built. Attorneys for Nissan claim all accusations of fraud are false because the plaintiffs can't show Nissan knew the floorboards would rust years after the cars rolled off the assembly lines.
The plaintiffs also accuse Nissan of failures concerning warranty coverage, but the automaker says the warranty works just as intended. Nissan argues an implied warranty doesn't last forever and any problems beyond the warranty period are just that, beyond the warranty period.
Nissan also claims the plaintiffs have other challenges to the lawsuit, including the issue of purchasing their cars from private parties or in used condition, which means the plaintiffs didn't deal directly with Nissan. Additionally, none of the plaintiffs claim they have suffered personal injuries from the floorboard rust. Nissan says having fear of what might happen in the future doesn't legally mean anything.
The Nissan Altima floorboard rust lawsuit was filed in the U.S. District Court for the Northern District of Illinois - Marie DeMaria v. Nissan North America, Nissan Motor Company, LTD.
The plaintiff is represented by Gibbs Law Group LLP, Greg Coleman Law PC, and Morgan & Morgan Complex Litigation Group.
Read complaints about floorboard rust in the Nissan Altima cars named in the lawsuit: