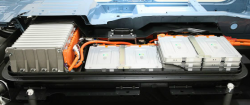 — A Nissan LEAF lawsuit filed three years ago has been settled after owners complained about batteries that didn't live up to advertised expectations.
The settlement was reached after a judge approved the deal that will give affected owners of the 2011-2012 LEAF a new battery if their old battery decreases to fewer than nine bars of capacity on the instrument panel gauge. Owners may also choose to receive 90 days of free charging or if an owner isn't near a charging station, they can opt to receive a $50 check.
The Nissan LEAF battery lawsuit alleges Nissan advertising said the car could travel 100 miles on a fully charged battery. However, owners said the automaker failed to mention the LEAF shouldn't be charged beyond 80 percent in hot weather. That small issue got the attention of LEAF owners in the hot climate areas of Arizona and California.
Owners claim the cars don't come close to 100 miles on a charge, especially when the battery has been charged numerous time. One owner claims the car was getting only 44 miles per charge after one year of driving.
Nissan claims the case is without merit and although it's regretful the lawsuit was filed, the automaker stands behind the technology that drivers the Nissan LEAF.
Nissan did extend the battery warranty in 2012, but the automaker was taking used batteries and restoring them to hold 70 percent of the original energy capacity.
The Nissan LEAF battery lawsuit was filed in the U.S. District Court Central District of California, Western Division - Humberto Klee and David Wallak vs. Nissan North America, Inc.
The plaintiffs are represented by Initiative Legal Group.