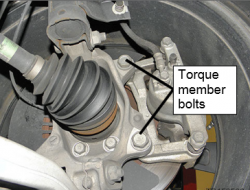 — Nissan is recalling 119 model year 2015 Nissan Altima and 2016 Maxima cars because the brake calipers can detach and make braking the cars difficult.
Nissan first discovered an issue in October during a routine torque test which identified a loose bolt on the front brake caliper. An investigation determined the spindle and tool controller card had been replaced that is used in the torque tool to tighten the bolts.
Those bolts secure the caliper assembly to the steering knuckle, but when the card was replaced, the controller card wasn't reprogrammed to the correct torque setting.
Nissan began an audit and determined 119 cars could be affected, and countermeasures were implemented at the factory to make sure the problem doesn't happen again.
The recalled Altima and Maxima cars were manufactured October 6, 2015, to October 7, 2015.
Nissan dealers will tighten the brake caliper mounting bolts when the recall begins in December 2015.
Owners with questions should call Nissan at 800-647-7261.
CarComplaints.com has owner-reported complaints about the Nissan Altima and Nissan Maxima, plus other Nissan models.