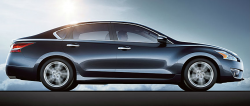 — Nissan is recalling 625,000 model year 2013-2015 Nissan Altima cars because the hoods could open while driving.
Nissan blames the problem on a secondary hood latch that can stick and stay unlatched when the hood is closed. The hood could fly open unannounced if the primary latch is released by mistake while the secondary latch is broken.
Nissan says the recalled Altimas were manufactured March 1, 2013, to December 31, 2014.
This same defect caused Nissan to recall 220,000 model year 2013 Nissan Altimas in October 2014.
The automaker hasn't released further details other than to say engineers have no idea right now how the problem will be fixed. As a temporary fix, Nissan will lubricate the secondary latch, but only on cars still in dealer inventory.
Nissan doesn't know when the Altima recall will begin because the automaker doesn't know how to fix the problem. Additionally, Nissan says the number of recalled Altimas could change.
If you own one of the affected 2013-2015 Nissan Altimas, feel free to contact Nissan customer service at 800-647-7261.