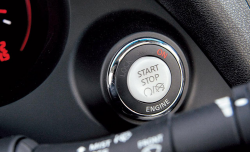 — Nissan is recalling 270,000 vehicles that could shut down while traveling down the road. Over 14,500 of the vehicles are in the U.S., while the rest are located in other parts of the globe.
The recalled U.S. vehicles include the 2014 Nissan Versa, 2013-2014 Cube and 2013-2014 Nissan Juke.
Recalled Nissan vehicles outside the U.S. include the 2013-2014 Almera, Note, Leaf, Pulsar, Venucia e30, Serena, March, Micra, Latio, Sunny, Tiida, Sylphy, e-NV200 and NV350.
Nissan says the vehicles have an engine start/stop button that can stick from exposure to high temperatures. That sticky button can cause serious trouble while driving if vibrations from the road cause the engine to suddenly shut off.
Nissan opened an internal investigation after receiving warranty claims about the push buttons. Some owners said the engines died while driving, but none of the incidents caused any injuries or accidents.
The cars recalled in the U.S. were built during the following periods.
2014 Versa Sedan: July 16, 2013, to January 29, 2014.
2013-2014 Cube: July 3, 2013, to October 21, 2013.
2013-2014 Juke: July 3, 2013, to October 22, 2013.
The recall should begin by the end of August 2015. Nissan dealers will modify the switch housing for the start/stop button.
If you own one of the vehicles listed above and have questions or concerns, contact Nissan at 800-647-7261.