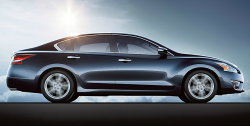 — Nissan is recalling over 900 vehicles to fix problems that can cause the front passenger-side airbags to fail in a crash. Nissan says the following models are included:
2013-2015 Nissan Altima and Pathfinder
2013-2014 Nissan Sentra
2013 Infiniti JX35
2014-2015 Infiniti QX60
2014 Infiniti QX60 Hybrid
The recall is a mop-up operation from a March 2014 recall of 1 million vehicles for problems with the occupant classification systems. That recall was ordered after a 2013 recall didn't fix all the problems.
The occupant classification system is used to determine if an adult is in the passenger seat. If the system does not detect an adult occupant in the seat, the passenger air bag should be deactivated.
Nissan says software in the system can malfunction and cause the system to read the seat is empty, even though an adult passenger is in the seat.
Nissan blames the problem on a supply chain error that caused incorrect occupant classification control unit parts to be installed on vehicles that received the incorrect part after the March 2014 recall was completed. There are also vehicles that were not part of the March recall but received the wrong part from other repairs.
Owners will be notified in November about having the occupant classification system control unit reprogrammed.
The recall is expected to begin in November 2015. Owners of the recalled Nissan cars can may contact the automaker at 800-647-7261.
Read complaints about the Nissan vehicles named in the recall: