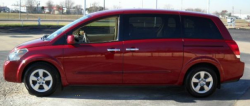 — Nissan Quest gas gauge problems will finally be fixed in about 68,000 model year 2007-2009 Nissan Quest vans after complaints started pouring in during a 14-month period.
The National Highway Traffic Safety Administration (NHTSA) had opened an investigation in May 2014 after receiving 140 complaints about vans running out of gas. Owners reported being fooled by gas gauges that indicated plenty of gas in the tanks when the tanks were in fact empty. The investigation focused on the 2007 Nissan Quest, but Nissan found the same problems in the 2008-2009 Quest as well.
Nissan says the gas gauge can give inaccurate levels because of problems with resistors in a circuit in the sender unit. The automaker found one of two resistors could open and cause false gas gauge readings when the tank goes below one quarter of a tank. Gas would be used out of the tank all while the gas gauge said a quarter of a tank was available.
The federal investigation is closed based on Nissan agreeing to conduct a "service campaign" on approximately 68,003 model year 2007-2009 Nissan Quest vans.
Nissan dealers will install an external amplifier box with jumper harness to bypass the electric circuit and ensure accurate fuel level readings.
Affected owners should have already received a first notification letter from Nissan. That letter tells owners to watch for a second notification that will be sent once dealers have the needed replacement parts.