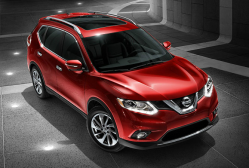 — Nissan is recalling over 95,000 model year 2014 Nissan Rogues to fix problems that cause fuel pump failures. Over 76,242 of the recalled SUVs are in the U.S. and about 18,700 are in Canada.
Nissan says nickel-plated particles can detach from the fuel pump's cover and move into a space between the impeller and the pump cover. The particles are enough to stop the impeller from rotating and cause the engine to fail to start.
If particles interfere with the pump while the car is running, the engine will immediately stall. Nissan says power will remain, at least enough to keep the airbags working and give the driver a chance to bring the car to a controlled stop.
The automaker says the recalled 2014 Nissan Rogue vehicles were manufactured June 11, 2013, to June 7, 2014.
Nissan dealers will replace the fuel pump during the recall, which should begin at some point in April 2015.
Owners with questions about the 2014 Nissan Rogue recall can call the automaker at 800-647-7261.