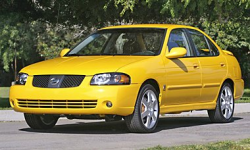 — Nissan is expanding a Takata airbag recall after reports a driver of a 2006 Nissan Sentra suffered injuries when the passenger airbag exploded.
Sabra Wilson, 20, said she was involved in a minor accident near New Orleans on March 21 when the passenger airbag exploded even though no one was in the passenger seat. Wilson allegedly suffered hearing loss, cuts and burns from shrapnel flying from the metal inflator located inside the Takata airbag.
In November 2014, Nissan recalled 52,000 cars to replace Takata-made airbags, and that recall followed airbag recalls of 226,000 Nissan vehicles in July 2014 and 480,000 cars in May 2013.
The National Highway Traffic Safety Administration hasn't released information about this latest Nissan Sentra recall, but early reports suggest Nissan will recall over 45,000 model year 2004-2006 Sentras. Going against the wishes of NHTSA and auto safety advocates who have wanted nationwide recalls, Nissan plans to recall the Sentra sedans in limited areas affected by heat and humidity.
Although Takata still hasn't confirmed the root cause of the exploding airbags, the best educated guess right now is age, heat and humidity that affects the metal inflators inside the airbags.
The recalled 2004-2006 Nissan Sentras were sold or registered in Alabama, Florida, Georgia, Hawaii, Louisiana, Mississippi and Texas. Additional areas include American Samoa, Guam, Puerto Rico, Saipan and the U.S. Virgin Islands.
Nissan hasn't released information about when the Nissan Sentra airbag recall will begin, but the automaker did say dealers will replace the passenger airbag inflator.
Owners with questions should contact Nissan customer service at 800-647-7261 and give them recall number 14V-701.
Read complaints about the recalled Nissan Sentra sedans: