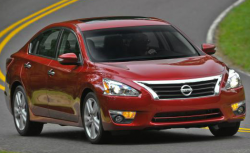 — A Nissan occupant classification system lawsuit has been filed after Nissan recalled nearly 1 million vehicles for the problem, yet a Nissan owner says the recall didn't fix the problems.
Plaintiff Matthew Senci filed the proposed class-action lawsuit that alleges the vehicles have occupant classification system software that can incorrectly classify a front passenger seat as empty when it's occupied by an adult passenger. The error can cause the airbag to deactivate and fail to deploy in a crash.
The class-action lawsuit includes consumers who purchased or leased one of the following Nissan vehicles:
2013-2014 Nissan Altima
2013-2014 Nissan Leaf
2013-2014 Nissan Pathfinder
2013-2014 Nissan Sentra
2013 Nissan NV200
2013 Infiniti JX35
2014 Infiniti Q50
2014 Infiniti QX60
2013-2014 Nissan Maxima
2013-2014 Nissan Rogue
2013 Nissan Versa
2013 Infiniti G37
The plaintiff claims Nissan has known about the problem since 2012 through complaints and warranty claims, but didn't recall any of the vehicles until February 2013. Calling it a "limited recall of less than 83,000 vehicles," the plaintiff says the recall was ineffective and owners kept filing warranty claims and complaints.
In March 2014, Nissan recalled almost 1 million cars for the same airbag problems. However, the lawsuit alleges the recall still didn't fix the problem. Additionally, some of the vehicles named in the lawsuit weren't included in the occupant classification system recalls.
The Nissan lawsuit accuses the automaker of unfair and deceptive acts and trade practices in violation of the Illinois Consumer Fraud and Deceptive Business Practices Act. The plaintiff claims Nissan hurt owners by selling and leasing vehicles with different safety benefits than advertised.
In addition, the lawsuit seeks damages based on Nissan's alleged refusal to tell customers about the defect which caused a decreased value of the vehicles.
The Nissan occupant classification system lawsuit was filed in the U.S. District Court for the Southern District of Illinois - Matthew Senci v. Nissan North America, Inc.
The plaintiff is represented by Goldenberg Heller Antognoli & Rowland, and Wolf Haldenstein Adler Freeman & Herz.
Read complaints submitted by owners of the Nissan vehicles named in the lawsuit: