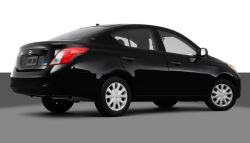 — Nissan is recalling over 218,000 model year 2007-2012 Nissan Versa cars following a federal investigation into broken front suspension coil springs. The investigation was opened after the National Highway Traffic Safety Administration (NHTSA) received over 90 complaints about front suspension coil spring fractures in the 2008-2010 Nissan Versa.
Nissan told NHTSA the fractured springs didn't pose an unreasonable safety risk because an owner would notice the posture of the car wasn't correct once a spring broke. In addition, Nissan said a Versa owner would hear noises coming from the busted springs. Admitting the fractured springs could puncture a tire, Nissan said a driver could still control the car and bring the vehicle to a safe stop.
Additionally, Nissan is not aware of any incidents involving a crash, property damage, injury or fatality attributed to the broken coil springs. However, owners said the coil springs were a clear and present danger once the springs broke.
One complaint said the passenger-side coil spring fractured while traveling at 65 mph and caused a sudden tire failure by cutting the inner sidewall 360 degrees. Another Versa owner said the passenger-side coil spring fractured while traveling 40 mph and resulted in a tire puncture and brake line failure.
Nissan blames the problem on road salt that can cause corrosion and rust to the front suspension on cars in colder weather areas.
The recall of the 2007-2012 Nissan Versa cars won't occur nationwide as Nissan has issued a regional recall only. Affected cars are those ever sold or registered in the District of Columbia, Connecticut, Delaware, Iowa, Illinois, Indiana, Kentucky, Massachusetts, Maine, Maryland, Michigan, Minnesota, Missouri, New Hampshire, New Jersey, New York, Ohio, Pennsylvania, Rhode Island, Vermont, Virginia, West Virginia and Wisconsin.
The recalled Nissan Versa cars were manufactured May 8, 2006, to November 12, 2012.
The Versa recall should begin in November 2015, when Nissan dealers will replace both front coil springs in the affected Versa cars.
Owners may contact Nissan customer service at 800-647-7261.
Although Nissan says the broken coil springs aren't a safety hazard, a proposed class-action lawsuit begs to differ. The Nissan Versa coil spring lawsuit was filed shortly after the government opened its investigation. The plaintiff in the lawsuit alleges Nissan refused to fix the problem which forced the owner to cough up $400 for repairs.