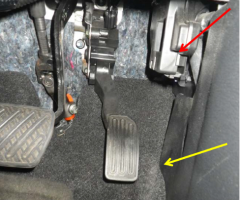 — A Nissan Versa investigation has been expanded by the National Highway Traffic Safety Administration (NHTSA) and now includes an additional model year Versa.
The original investigation was opened after reports of people getting their foot stuck on the gas pedal because their foot was lodged in place by a piece of plastic trim. The investigation included the 2012-2014 Nissan Versa, Versa Sedan and Versa Note cars that have a plastic trim that covers the front tunnel carpet.
One Versa owner said their foot got caught by the plastic trim to the extent the driver had to pull on their leg to get their foot off the gas pedal. The reported incident almost caused a crash.
While the investigation was underway, NHTSA received another report about a driver's foot trapped by the plastic trim that caused a serious problem with the driver getting their foot to the brake pedal. The delay caused a crash and minor injuries to the driver.
Additionally, another complaint says the driver's foot got lodged by the HVAC relay actuator. (See red arrow in photo, top right)
NHTSA said the upgraded investigation will include the 2015 Nissan Versa and Versa Note because they apparently have the same trim panel design and same HVAC relay actuator placement. However, the upgraded investigation will not include the 2012 Versa because investigators discovered it doesn't use the same trim panel design.
From here, two things are possible. The expanded Nissan Versa investigation could be closed if NHTSA doesn't find evidence of a safety defect, or 360,000 Nissan owners could start receiving recall notices.