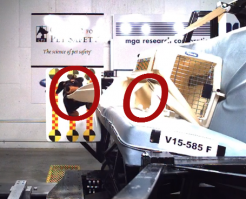 — The latest pet carrier crash test results show many pet carriers that claim to offer crash protection do little to protect a pet, even some of the more expensive carriers and crates.
The Center for Pet Safety (CPS) tested pet harnesses, pet travel seats and now pet crates and carriers. The latest tests were conducted on carriers and crates and how they rate in a car accident.
The study was conducted in partnership with Subaru of America at MGA Research Corporation, a testing lab contracted by the National Highway Traffic Safety Administration. Called the "Pet Travel Seat Pilot Study," researchers used the Federal Motor Vehicle Safety Standard for child safety seats. Special crash test dogs were used to replicate various weights and sizes of animals commonly carried in a vehicle.
CPS tested only crates that advertised they had been tested, crash tested or offered crash protection and no crate cost more than $1,000. Value crates were tested separately and do not make claims of "testing," "crash testing" or "crash protection." Typically used by travelers, the value crates cost less than $150.
To be considered a successful test, the carrier/crate must fully contain the test dog before, during and after the crash test. Additionally, the carrier and all device connection points must remain completely connected to the test bench for the entirety of the test.
Although many crates and carriers were tested, only three came away with top honors, and only one in the expensive "crate" category made the cut.
Best Pet Carriers
Pet Ego uses a latch connection design that snaps firmly into place, just like a child seat. CPS says testing indicated the ISOFIX-Latch connection held securely and the carrier fully contained the test dog, before, during and after the test.
Sleepypod looks to be a company pet owners should take note of, not only because of the carrier results, but Sleepypod was the number one choice for pet safety harness products in 2013.
Tests showed that cheaper plastic carriers can completely fail to protect a pet in a crash. For example, the 15-pound Dachshund test dog was launched out of the PetMate Vari Kennel carrier like a missile, even though the carrier was strapped with a seat belt.
However, to be fair to PetMate's Vari Kennel, the carrier isn't marketed as anything more than a pet carrier for travel in a vehicle. PetMate makes no claims about testing, crash testing or crash prevention for this carrier. Watch the crash test video here.
Best Pet Crate
CPS says the product from Gunner Kennels is the top performing crate for 2015. The crate withstood all crash-test forces because of its excellent structural integrity. CPS says the door is exceptional because of a dual-locking feature, and the rubber feet gripped the carpet just as needed.
For a complete list of all tested pet crate and carrier products in addition to test videos, check out the pet carrier results and the pet crate results.