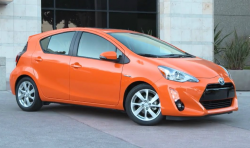 — Southeast Toyota Distributors (SET), the world's largest independent distributor of Toyota and Scion cars, has announced two recalls involving almost 3,500 vehicles. Most of the recalled vehicles have the possibility of causing burns to anyone standing behind the vehicles.
Toyota 4Runner
Southeast Toyota Distributors is recalling 2,530 model year 2010-2015 Toyota 4Runner SUVs because the exhaust tips could seriously burn anyone reaching into the back of the SUVs.
Toyota received a complaint in July 2015 that a person was burned by the exhaust tip on a 2015 Toyota 4Runner while reaching into the rear of the SUV. SET either installed, or sold to dealers to install, accessory exhaust tips for 2010-2015 Toyota 4Runners.
Toyota confirmed the exhaust tip was a Southeast Toyota Distributors accessory installed by a SET dealer. The exhaust tip is supposed to be recessed behind the bumper to prevent harm, but an investigation determined it was still possible to be burned by the hot exhaust.
The recalled 4Runners were manufactured March 29, 2010, to July 30, 2015, and sold only through Southeast Toyota Distributors or its dealers.
SET says the exhaust tip will be replaced with a re-designed exhaust tip that is smaller in diameter and is recessed a greater distance behind the bumper. Owners will be contacted directly by Southeast Toyota Distributors beginning September 21, 2015.
Affected owners of the 2010-2015 Toyota 4Runner SUVs can always call SET customer service at 866-405-4226 and give them recall number SET15D.
Toyota Prius C
Southeast Toyota Distributors says 949 model year 2015 Toyota Prius C subcompact cars have problems with the tire pressure monitoring systems. SET says the systems may have been calibrated incorrectly and could fail to provide a warning the tire pressure is low.
Never mind that old-fashioned idea of checking the tire pressure by using a tire pressure gauge, without a working monitoring system a driver might be completely lost. So much so a recall must be ordered to prevent any underinflated tires.
Federal safety rules require tire pressure monitoring systems to activate a low tire pressure warning not more than 20 minutes after the inflation pressure in one or more of the tires is equal to or less than the pressure 25 percent below the vehicle manufacturer's recommended cold inflation pressure.
In the Prius C cars, the tire pressure monitoring systems do not start illuminating the low tire pressure warning at the required minimum activation pressure.
SET says the recalled Toyota Prius C cars were built April 20, 2015, to June 30, 2015.
The 2015 Toyota Prius C recall will begin September 22, 2015, when SET dealers will re-calibrate the tire pressure monitoring systems.
Affected owners who have questions should call 866-405-4226 and refer to recall number SET15E.
— Read owner-reported complaints about the Toyota Prius C and Toyota 4Runner.