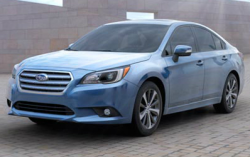 — Subaru is recalling 72,000 vehicles for software problems, and it will help to be a computer programmer to understand what caused the recall.
The automaker names the recalled vehicles as the 2015 Subaru Legacy, Outback, Impreza, XV Crosstrek and the 2016 Subaru WRX.
According to Subaru, the vehicles are equipped with the "eyesight driver assist system," and if the switch fails that activates the brake lights, the pre-collision braking component of the driver assist system will fail.
The problem was discovered on April 15, 2015, when Subaru was developing other models. The automaker discovered the defect can cause a delay in the multi-information display to inform the driver that none of the driver assist functions can be used.
The recalled vehicles were manufactured during the following periods.
2015 Subaru Legacy: March 10, 2014, to April 16, 2015.
2015 Subaru Outback: February 24, 2014, to April 16, 2015.
2015 Subaru Impreza: September 9, 2014, to April 14, 2015.
2015 Subaru XV Crosstrek: October 16, 2014, to April 15, 2015.
2016 Subaru WRX: March 23, 2015.
Although understanding the terminology behind the defect might be difficult to comprehend, the consequence of the defect is easy to understand. If the automatic pre-collision braking system fails, the vehicle will not automatically react to an obstacle in its path as intended.
Subaru hasn't released a recall schedule, but has said its dealers will reprogram the driver assist system to fix the problems. Owners of the recalled vehicles can contact Subaru at 800-782-2783 and refer to recall number WQS-54.
Read owner-reported complaints about the Subaru vehicles named in the recall: