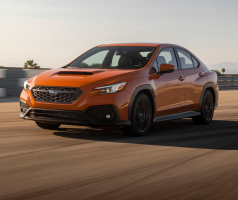 — A 2022 Subaru WRX EyeSight recall includes more than 4,600 all-wheel-drive sport cars equipped with "EyeSight."
Subaru says the recall of 2022 WRX cars is necessary because the owner's manuals may be wrong about how to adjust the sensitivity of the high-beam assist functions.
This means the WRX lights may not be adjusted correctly because the Subaru WRX owner's manual refers to the wrong type of dimmer switch.
According to Subaru:
"EyeSight monitors traffic movement, optimizes cruise control, and warns you if you sway outside your lane. When equipped with EyeSight, all tested 2022 Subaru models receive the highest possible rating for front crash prevention by IIHS. The Pre-Collision Braking feature can even apply full braking force in emergency situations, helping you avoid or reduce frontal impacts."
Subaru first learned of the WRX owner's manual issue in October 2022.
However, Subaru is not aware of any warranty claims, field reports, crashes or injuries.
A 2022 Subaru WRX owner won't have to visit a dealer if they want to skip it because the automaker will mail inserts to include in the owner's manuals.
Subaru WRX recall letters are expected to be mailed February 15, 2023, but owners who want to learn more may call 844-373-6614.
Subaru's number for this WRX recall is WRA-23.