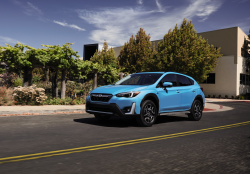 — A Subaru Crosstrek Hybrid recall involves more than 8,000 vehicles because the 12-volt batteries may fail to charge.
The recalled 2019-2022 Subaru Crosstrek Hybrids have harness terminals that supply low-voltage power from the converters to the 12-volt batteries.
But the harness terminal may corrode and break, preventing the 12-volt battery from charging.
Subaru's design did not provide enough protection to the connection from things such as road salt. Corrosion can weaken the terminals and cause them to loosen or break.
A driver should see an illuminated warning light if there are terminal issues.
Subaru dealers will need to replace the converter terminal mounting brackets. And if corrosion is found on the terminals, the 12-volt output harnesses and terminals will also be replaced.
Subaru Crosstrek Hybrid recall letters will be mailed April 14, 2023.
Owners of 2019-2022 Subaru Crosstrek Hybrids may call 844-373-6614 and ask about recall number WRD-23.