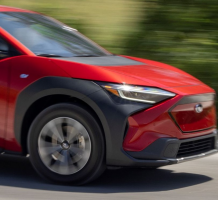 — Subaru is warning owners of 2023 Subaru Solterra vehicles to stop driving the vehicles until the wheel hub bolts are tightened.
About 1,200 model year 2023 Subaru Solterras are recalled because the wheels could fall off the vehicles.
A previous Subaru recall was issued for the same hub bolt problem to replace the original hub bolts. But Subaru learned about problems caused by contractors at two port locations.
The automaker determined the contractors did not properly complete repair procedures which led to "significantly under-torqued bolts."
The 2023 Subaru Solterra recall now includes vehicles repaired at all port locations.
Subaru owners should park their vehicles and contact dealers to have the vehicles towed for free.
Subaru technicians will inspect the hub bolts and retorque them if necessary.
Subaru dealers will tighten any loose hub bolts, and owner recall letters are expect to be mailed March 1, 2023.
Owners of 2023 Subaru Solterra vehicles may call the automaker at 844-373-6614.
Subaru's number for this recall is WRE-23.